The High Sheriff sounds like a character from history and, indeed, the office dates back 1,000 years. However, Tony aims to show that the role is every bit as relevant in the 21st century as it was in the 10th.
In fact, Tony's goals for his 12 months of service suggest that the role of High Sheriff, amid the drastic fallout from the Covid pandemic, has never been more important.
He explains: "My theme is to champion Shropshire within the county and further afield. I am acutely aware that 2020/21 has been terrible for many in the county. The pandemic has clearly had an enormous effect on us all in the county. Some to their health, whether physical or mental, or others financial.
"My aim is to encourage, influence and publicize the efforts of many facets of Shropshire, from the NHS and individual people to businesses and charities. For example, I am aiming to do all I can to promote tourism in our county on a variety of platforms, both traditional and through social media. The industry has always been an essential part of Shropshire's economy with so many dependent on it for their livelihoods.
"Unfortunately, it has been badly hit by Covid restrictions, with travel limited and visitor attractions, hotels, pubs and cafes either closed or restricted in what they have been able to offer. Businesses have struggled and many have lost their jobs as a result.
"Shropshire is a wonderful county, with breath-taking countryside, a colourful history and a rich architectural heritage. It has so much to offer not only visitors from outside but those of us who live here, that I believe tourism will help to drive our economic recovery.
"I am trying to play a part in that, working alongside Shropshire Council and groups like Visit Shropshire" says the father-of three, who has great support in his role from wife Clare, Under Sheriff Madeleine Butcher and his Chaplain Revd Christine Simpson.
"Tourism aside, I am aiming to do all I can to support and enable economic regeneration in general. Employment and training opportunities are vital parts of that."
Tony continues: "One advantage of the role of High Sheriff is that it is non-political which means I'm able to help in a purely objective way. I am determined throughout these 12 months to make a difference, where I can, to our county and those that live in it."
The office of High Sheriff is certainly a part of the nation's colourful history, having been around since 943. There are links to the likes of the Sheriff of Nottingham, who ruthlessly imposed King Richard I's rule in the late 12th century and gave rise to the legend of Robin Hood, the outlaw of Sherwood Forest who championed the poor.
"The High Sheriff in those days collected the king's debts, maintained law and order and, somewhat macabrely, oversaw public hangings! A High Sheriff of yesteryear was not always a popular person," Tony explains with a chuckle.
"Over the years the executive powers have been taken away and today the role is largely ceremonial. The Lord Lieutenant is now the senior role and the Queen's ambassador in the county. Our responsibilities include making a valid contribution to county and supporting and encouraging the judiciary, emergency services, voluntary sector, crown/Lord Lieutenant, all faith groups, anything to do with crime prevention and also our two local authorities.
"There are still some ceremonial duties when The Queen or members of the royal family visit, but the greater role is to be a force for good in the county," Tony adds.
The High Sheriff's traditional costume, still worn today, is a throwback to its historical origins and certainly lends a theatricality to ceremonial occasions. Tony, however, uses it sparingly as he wants to emphasise, as much as possible, the role's relevance to the 21st century.
"That role is not just to support the great and good but also the disadvantaged. Part of the High Sheriff's job, as I see it, is to champion the many unsung heroes of the county, such as the police, firefighters, doctors and nurses, charity workers and the many volunteers in all walks of life."
Tony is not one to cheer volunteers from a cosy armchair, either. He and Clare gave up a night's sleep to venture out on patrol with Shrewsbury Street Pastors.
"We joined Pastor Paul and his eight supporters, who pounded the streets of Shrewsbury from 10pm to 5.30am – some 25,000 steps later! There are 40 volunteers in the team who take it in turns to go out once a month every Saturday night.
"They are a humbling mix of society, all with a genuine social conscience. On this particular Saturday there were 21 contacts, almost all alcohol-related. There were at least eight rough sleepers, but almost all the contacts were young and virtually all drunk, both boys and girls. It's a sad reflection of our times."
There are many other volunteers, who make an equally valuable contribution to community life across Shropshire, and Tony aims to champion as many as he can. One of his particular charities will be The Midland Air Ambulance.
On the subject of volunteers, the High Sheriff is, in fact, one too. The role is unpaid and, in practice, holders of the office are usually significantly out of pocket in funding their shrievalty, as the 12-month tenure is called.
Tony, though, grew up with the concept of service to the community, his late father having been chairman of Shropshire County Council. Tony himself has served as a governor of Harper Adams University, near Edgmond, which is near the Morris-Eyton family home.
The role's voluntary nature means Tony is combining his shrieval duties with the day job, as head of the West Midlands office of high-end property agent Savills. As a senior director, he is a specialist in the sale of large farms and estates and large residential country houses. His wide-ranging management brief also includes being head of country sales in the Midlands and northern region.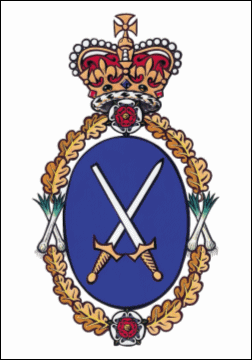 Savills, under Tony's direction, has been prominent in its support of a range of community causes over the years.
He vows: "I am determined as High Sheriff to make a difference to our county and those that live in it. We have a special county and need to be proud of it, particularly through these difficult times."
If you have an organisation or charity that you would like Tony to contact or visit, or you know someone in the community who deserves special recognition, please contact him on:
Mobile: 07967 555652
Email: shropshire@highsheriffs.com